Below are just a few of the fine vehicles we've sold to satisfied customers around the world. We're always adding more to this list. For more, see our photo gallery of sold cars or visit our youtube channel to see our videos.
Original California Black License Plate! 1965 Ford Mustang Fastback, A Code, Pro-Touring, Resto-Mod with 351 Windsor V8, Borg-Warner 5-Speed Manual Transmission. Incredible Shelby GT 350 R Styling. Sure to please the most discriminating buyer.
Rare, 1970 Ford Mustang Mach 1 428 Super Cobra Jet with FACTORY DRAG-PACK Option. Ram Air Induction Shaker Hood "R Code", date coded and correct 428 Super Cobra Jet with 4-Speed Close Ratio Manual Transmission and Drag Pack. Fully restored to Mustang Club of America standards. Believed to be 47,980 original miles.
Numbers-matching '69 Camaro Z28. This is an exceptional vehicle down to the smallest details. With only 42,399 actual & documented miles, it has the original Factory VIN-stamped DZ 302 V8, VIN-stamped Muncie M21 close ratio 4-speed trans, and original stamped "BV" code 4.10 rear axle.
Fully restored with only 1,834 miles since a comprehensive, no-expense-spared restoration. Strong, powerful, and ready for any terrain imaginable. Completely custom and built with the finest components available. This is the ultimate Bronco for the collector or the enthusiast.
Amazing is an understatement. This beautiful Shelby GT350 is extremely clean, fully loaded with everything you could ask for (see details as listed on the window sticker photo), and is one of only 231 produced with Ruby Red Metallic paint. Original and documented.
2019 Porsche 911 Targa 4 GTS. Twin Turbo 2.0L with All-Wheel Drive. Only 2,875 miles. This Porsche is a true rarity and absolutely stunning in every aspect. Black on black with ultra-low mileage, it is a beautiful color combo that perfectly accents the incredible performance of this car.
1969 Ford Mustang Mach 1 428 SCJ w/Rare FACTORY DRAG-PACK and 4-Speed. This car HAS NEVER BEEN FOR SALE! Reference Grade and Investment quality. Fully documented, low-mileage, matching numbers vehicle. You will not find another in this color at this level of quality.
A stunning example of the '69 Corvette with only 23k original miles. An amazing car to drive, and equally amazing to look at. Professionally rebuilt with deep glossy paint, original interior/exterior, and upgraded 427 police interceptor motor with a ground-pounding M421 Muncie 4-speed manual transmission.

1969 Ford Mustang Mach 1 428 SCJ Super Cobra Jet. Matching numbers and super-rare Drag Pack option. Ram Air Induction Shaker Hood "R Code" with 100% Matching Numbers and Date Codes. Extremely Documented and Absolutely no expense spared.

1971 Dodge Charger R/T 440 Magnum V8 with 727 Torque-Flight Slap Stik transmission. Recently restored by a 30-year Mopar restoration expert. Less then 500 miles since completion. Factory Original Matching Numbers Drivetrain.

1971 Chevelle 454 Pro-Touring with 560hp and Tremec 5-Speed. The Raw horsepower and modern immenities make this car a absolute blast to drive. Investment grade, Show Qualitywith over $100k spent on a complete Rotisserie Restoration.

1971 Porsche 911 E with air-cooled engine and Factory 5-Speed. Matching numbers, documented, and loaded with factory options. Rust and wreck-free! Investment grade, authentic 911 - A true iconic piece of automotive history!

This gorgeous and ultra-clean Chevelle has been completely rebuilt from the ground up with nothing but the finest components. Stunning blue paint, white interior, and no expense spared - the perfect combination of comfort and performance.
Ultra Rare 1969 Ford Cobra "R Code" 428 Cobra Jet w/Ram Air. This is a 2-owner vehicle with only 60,741 original miles. Fully documented, matching numbers, show quality & investment grade. Highly-optioned.

1970 Dodge Coronet Super Bee with 383 Magnum V8. Concours Quality and completely numbers matching. One of the finest Super Bees in existence today that has undergone a 2-Year, no expense spared restoration based on the original build sheet and factory fender tag.

1970 Plymouth Road Runner 440 Six Barrel with 4-Speed Pistol Grip transmission. This is an ORIGINAL PAINT survivor with matching numbers, and only 54,281 documented miles! A truly original and authentic MOPAR in all of its glory!
Stunning 1968 Shelby GT 350 equipped with a custom Paxton Supercharger. This Mustang has been completely restored to investment quality condition. Perfectly done throughout with no expense spared. Runs & drives tight, fast, and better than new and is ready to show or drive anywhere!

This '81 Camaro Z28 Resto Mod is an enthusiast's dream! Completely updated with the finest parts available, this Z28 has undergone a full restoration to create a fine balance of powerful performance and modern comfort.
1969 Camaro RS 396, factory Rally Sport with a powerful 396 cubic-inch V8. Pro-Touring setup with 475 Horsepower and a 5-speed manual transmission. Over $95,000 was spent on fully restoring and rebuilding every single component of this vehicle.
Grabber Blue '69 Shelby GT500 Super Cobra Jet with the rare Factory Drag Pack option. Matching numbers, 4-speed transmission and only49,000 original documented miles. This is an investment grade Mustang and a genuine piece of Ford history.

1973 Chevrolet Camaro Rally Sport Z28, with 383 Stroker 4-Speed producing 450hp. This split-bumper Camaro is Pro-Touring Perfection, with only 850 miles since a complete professional restoration. It is extremely fast, extraordinarily clean, and sure to please! 

This amazing and original Boss 302 is a beautiful and highly desirable Mustang featuring stunning white exterior and a rare deluxe ginger interior. Restored to absolute perfection, and ready for the most discerning buyer to show or drive anywhere.
1969 Shelby GT350, with matching numbers 351 V8 and a 5-Speed Manual Transmission (Factory Original 4 Speed included). Original Factory Candyapple Red Shelby Mustang that comes LOADED with rare options like Ice Cold Air Conditioning. Truly a beautiful example of a GT350.
Fully Documented by the PHS (Pontiac Historical Society). Loaded with factory options and a 400 cubic-inch V8 mated with the factory original, vin-stamped 4-Speed manual transmission. This investment grade GTO Convertible is a true icon of American Muscle.

This phenomenal GT500KR is a true one of one and an absolutely super-special Shelby Mustang. The car belonged to Carrol Shelby's wife, and was the only production Shelby Mustang painted in this color - the shade of her favorite lipstick!

1967 Chevrolet Chevelle Resto-Mod Pro-Touring beast with a 396 V8, producing a impressive 450 Horsepower. Over $90,000.00 Was Spent Restoring and Rebuilding every component of this vehicle to make it one of the finest cars in the country today!
1969 Shelby GT500, with an original matching numbers 428 Cobra Jet motor. Professionally rebuilt to complete perfection with the original factory 4-Speed transmission! Highly optioned and ONE of only 15 '69 GT500s ever produced in rare "Competition Red".
1967 Oldsmobile 442 Convertible. This beautiful Olds features an excellent color combination of show-quality red exterior paint with a black convertible top and black interior. Full rotisserie restoration was recently performed with no expense spared.
1965 Mustang Fastback Resto Mod with 408 Stroker motor. This gorgeous mustang has been fully restored from the ground up using only the finest build components available. It's fast, mean, clean, and ready to show or drive anywhere!
1969 Chevy Camaro NHRA Drag Car. This wicked machine is not for the faint of heart, and not a faily driver. Built with the finest components, this turn-key beast was made for pure performance and nothing less. This is the real deal for anyone seeking a true race car!
This Mustang is a true diamond - one of one in existence! Gorgeous, fully documented, and reference quality Mach 1 SCJ. This ultra-rare Mach 1 is a "W Code", featuring a 4.30 rear axle and 4-speed transmission. This car is priceless and truly one of a kind. An excellent addition for even the finest collection.

1969 Chevrolet Camaro SS Pro Touring featuring a 502 Big Block V8 GM Crate Motor Producing 550 Horsepower! Turbo 400 Automatic Transmission, Disc Brakes & Ice Cold Vintage Air Conditioning, and new Camaro ZL1 Interior with Power Seats. This is a $95,000.00 build.

1967 Mustang GT 2+2, 390 S Code. This is a San Jose built Pony with a documented 390 S Code, 4-Speed transmission. Equipped with a factory-original 390 "S Code" V8; this is a factory-authentic REAL GT, 2+2. Investment quality and highly optioned.
1970 Dodge Challenger R/T "Six Pack" with 440 Cubic Inch V8 finished in Hi-Impact Sublime color paint. This is one of the first production 1970 Challengers made! This was a Chrysler Executive Lease Vehicle, specifically built for auto shows and produced September 2, 1969.
1969 Shelby GT350 with 68,401 original miles! This shelby is ONE OF ONE and extremely documented. Original Owners Manual signed By Carroll Shelby. History from new with documented owner chain. VERIFIED by Vince Liska the SAAC 1969-1970 Shelby Registrar. Runs like a dream... Fast, Tight and clean.
1968 Mustang Fastback "BULLITT" 428 SCJ 4-Speed! This is a date-coded correct, completely matching numbers 428 Super Cobra Jet with 4-Speed manual transmission that won "Best of Show" at the Bullitt Convention in Coldwater, Michigan. Amazing in every way!
Stunning and flawless 1967 GTO convertible. Triple-black color scheme with black paint, a black convertible top and black interior. This GTO is one of the finest you'll find anywhere and it has undergone a recent and meticulous restoration.
1969 Ford Mustang Mach 1 428 Super Cobra Jet, equipped with the ultra-rare and desirable Drag Pack option! This is a true "R Code" Ram Air Induction SCJ Mustang. Fully authentic, investment grade Mach 1 with 50,160 original and documented miles!
This super-rare Turbo Trans-Am is a true collector's classic. With a cult-like following, these cars are gaining more and more value with each year that passes. Completely restored and ready to show-off or drive anywhere.
1969 Shelby GT500 "Super Cobra Jet" with 428 Ram Air Induction and rare factory Drag Pack. Special order Grabber Yellow paint. This super-rare Mustang is one of only two that were ever produced! This is an exceptional example of a true collector's Mustang.
1969 Shelby GT 500, 428 Cobra Jet with Ram Air Induction and 4-Speed transmission. This is a rare, matching-numbers car that has had only 2 owners. We are pleased to present one of the most documented, earliest production Shelby Mustangs in existence today.
With factory matching numbers, this "M Code" V8 Mach 1 features a Hurst 4-Speed manual transmission, factory A/C, and only 27,125 original & documented Miles! This beautiful Mustang is a true American icon of automotive history!
All-original 1969 Road Runner Hemi with matching numbers 4-speed transmission. Perfect black paint, fully restored with no expense spared, and guaranteed to impress even the most discerning buyer. Investment grade and collector quality!

1969 Chevrolet Camaro RS/SS with 396 L78 motor making 375 Horsepower. Featuring the desirable M22 "Rock Crusher" 4-speed transmission, and a white convertible top! This is without a doubt, one of THE BEST 1969 Camaros available for sale anywhere.
1965 Ford Mustang GT Fastback 2+2. Extraordinarily clean, and an original Factory Original GT. Less then 4% Of Mustangs produced left the factory with the Optional GT Package. Real GTs are few and far between, and the good ones are even harder to find!
This 1970 Camaro RS is black, mean and EXCEPTIONALLY CLEAN. Powerfully and tastefully equipped Resto-Mod with a 454 V8 matched to a 5-Speed transmission. Featuring 4-wheel disc brakes, A/C, and freshly out of a complete nut-and-bolt rotisserie restoration.
1965 Ford Mustang GT Fastback 2+2. This is an authentic factory-produced GT "A Code" Mustang and NOT a clone. Finished to perfection in Rangoon Red with pristine red deluxe Pony interior, automatic transmission and ice-cold factory air conditioning.
1971 Oldsmobile 442 W30 Convertible "W Machine". This 442 is ultra-rare with matching numbers and one of only 110 ever produced. It is 1 of 1 as equipped, included in the official W30 Registry, and is KNOWN TO BE THE EARLIEST PRODUCTION W30, the first of two which were built in December 1970.
1964 1/2 Ford Mustang Factory "K Code, High Performance Hi-Po" 4 Speed, Convertible! THE HOLY GRAIL of early mustangs! Produced July 23, 1964 in Dearborn, Michigan and 1 of only 3 convertibles known to exist today! This Pony is a MCA (Mustang Club of America) Gold Winner.
1966 Mustang 'K Code' 289 Hi-Po 4-Speed! This is the HOLY GRAIL of collectible mustangs. Less than 1% of Mustangs were 289, 271 Horsepower, Hi-Po "K Codes". This is a fast, fun, tight and extraordinarily clean '66 Mustang.
1957 Chevrolet Bel Air Convertible fullly restored in 2011 with only 1,000 miles since completion. Features a correct 283 cubic-inch motor with 4-barrel carb. Excellent condition and an exemplary '57 Chevy.
This Mach 1 is an official and authentic "R Code" Mustang with a powerful, fire-breathing 428 Cobra Jet drivetrain and 4-speed manual transmission. This rare and gorgeous pony was recently appraised in 2014 for $72,000.
1969 Chevrolet Camaro Z11 RS/SS Indianapolis 500 Pace Car Convertible with matching numbers 350 V8, Gorgeous Dove White Paint with Orange Stripes and Power Convertible Top with Glass Rear Window. Mario Andretti autographed the air cleaner on this Camaro that remains with the car today.
1969 Ford Mustang Pro Touring Resto-Mod with Fire Breathing 302 Cubic Inch V8. This gorgeous mustang has undergone a 3-year rotisserie restoration (an $80,000 build), and is one of the BEST Pro-Touring Cars you will find anywhere.

1963 Chevrolet Corvette Split Window. This is a rare and desirable corvette with matching numbers, a 4-Speed transmission, and fuel injection system (this is known in the classic Corvette world as a "Fuelie").

Beautiful red 1968 Shelby GT 350 with a professional Paxton Supercharger. Fully restored with no expense spared, ready to show or drive anywhere. This is a clean, tight, and extremely fast Shelby Mustang that's sure to please!

Rare and desirable 1968 Ford Mustang Shelby GT 500 with only 53,000 original miles. Ready for the serious collector, or to show & drive anywhere.


Extremely rare '69 Camaro with factory aluminum heads - one of only 28 known to exist! This Camaro is in excellent condition, fast, clean, tight, and ready to show or drive anywhere. The perfect addition to any garage or collection!

Extremely clean and flawless Hemi Cuda with only 7,242 original and documented miles! This Hemi-Cuda is an exquisite example of a classic mopar, and has been fully documented by Galen Govier. Reference grade Mopar that would be the highlight of any collection!

This amazing 1969 Shelby GT 350 is a MCA GOLD winner. This '69 Shelby is number #1339, in excellent condition and sure to please even the most discriminating buyer. Ready to show or drive anywhere, investment quality and reference grade!

Absolutely stunning Challenger, and an authentic RT 440 Six Pack. Beautiful and expertly restored from top to bottom, with no expense spared. Show quality and reference grade. This is Mopar at its very finest!

Extremely clean and flawless Hemi Cuda with only 7,242 original and documented miles! This Hemi-Cuda is an exquisite example of a classic mopar, and has been fully documented by Galen Govier. Reference grade Mopar that would be the highlight of any collection!

1967 Mustang Fastback 390 "S Code" Pro Touring Resto-Mod. Rare and desirable numbers-matching Fastback, professionally built from the ground up, with absolutely no expense spared (over $47k in receipts alone!). Matching numbers "FE" 390 big-block with C6 automatic.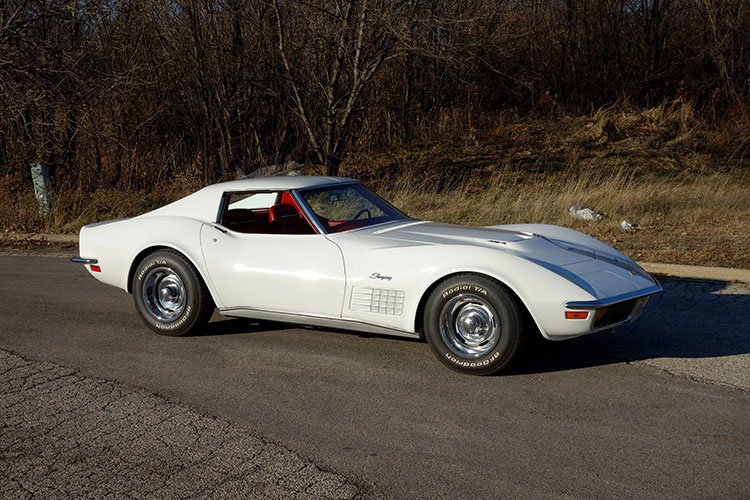 1972 Chevrolet Corvette 454 Big Block T-Top Coupe. Beautiful white paint with exceptional red interior. Frame-on restoration on a southern vehicle that has been lovingly maintained. This is a 59,000 mile no-hit, no-accident body. This is a 365 horsepower 454 V8 corvette with automatic transmission.

One-owner 1965 FordMustang Fastback 2+2 Pro Touring, Resto-Mod. Over $53,000 spent to make this one of the absolute finest Mustang's you will find anywhere. Rust & wreck-free, with laser-straight factory original body panels and floors. Rotisserie restored with only 1,350 miles.

1966 Ford Mustang GT, Convertible, 289 A Code V8, 4 Speed Manual Transmission, with optional Rally Pac, Factory Authentic GT! Only 3% of ALL Mustang production were REAL GT's. Gorgeous Red Pony Interior with Show quality Red Exterior. Serviced, inspected and appraised. Show or drive anywhere.

Rare and desirable 1967 Ford Bronco 4x4 U100 Wagon, unrestored with only 39,793 original miles and 1 high-quality repaint! This Bronco is all original with original uncut body panels. Early Broncos in this condition are extremely hard to find. Ready to show or drive anywhere!

This car is #626 of only 767 produced. It has been owned by a renowned private collector in a well-known collection since new. It boasts only 1,084 original and documented miles. The factory plastic is still in place on the Boss 302 embroidered floor mats.

This GTO is the Holy Grail of American Muscle Cars. Numbers matching, fully documented, 1970 Pontiac GTO Judge, Ram Air IV, with a 4-speed transmission. Loaded with 17 factory options and finished in gorgeous and extremely desirable Starlight Black lacquer paint, as from the factory.

1967 Ford Mustang Fastback with a period correct fire breathing 390 FE V8. Equipped with a C6 automatic transmission backed by the infamous 9" Ford rear and power disc brakes. These Fastbacks are coveted by collectors, investors and enthusiasts alike... Fully documented!

Amazing is a understatement. This is a BRAND NEW 1994 Chevrolet Corvette Convertible with only 111 documented miles! This is a collectors dream. This Vette was purchased out of the Bob McDorman collection of Corvettes and stored in a climate controlled facility since new.

1965 Ford Mustang Fastback 2+2 GT equipped, Factory "A Code" with 4-speed manual transmission Produced June 3, 1965 in Dearborn, Michigan. This is an investment grade Mustang with show quality Caspian Blue exterior and gorgeous blue/white Deluxe Pony Interior.